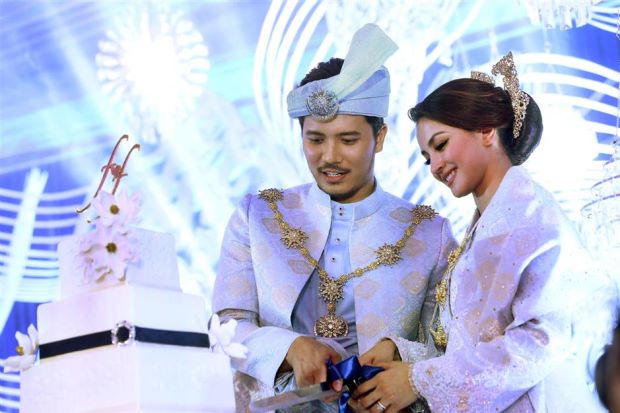 CELEBRITY couple Fattah Amin and Nur Fazura Sharifuddin (pic) kept their promise and shared their wedding with fans by holding a reception at Royale Palace in Shah Alam on Sunday, Harian Metro reported.
On March 8, the couple extended the invitation through their Instagram accounts.
The reception was held in two sessions – the first for their close friends, sponsors and VIPs, and the second for fans.
From 2pm to 4pm, more than 5,000 fans attended the event.
The couple, popularly known as Fattzura, surprised fans by singing the song Cinderella, from the soundtrack of drama series Hero Seorang Cinderella, the drama on which they grew close while working together.
> Obsessed with Japanese cartoon characters Doraemon and Hello Kitty, a couple decided to have a themed wedding, Harian Metro reported.
Nur Sakeena Kamarol Zaman, 24, and her husband Saiful Nizam Hassan, 35, are both avid fans and searched high and low for a wedding planner who could help make their dream wedding a reality.
"We spent around RM10,000 for the dais, apart from buying Doraemon and Hello Kitty accessories for the wedding," Nur Sakeena said.
"We were excited because everyone who attended took pictures and recorded videos," she said.
The couple has also decided to decorate their home with the same theme.
> It was a new experience for youths who took part in a trench fishing competition in Sabak Bernam, Sinar Harian reported.
Called menggagau ikan in Malay, the event required each participant to catch a fish with their bare hands within 10 minutes and hand it to the judges.
Sabak Bernam official Sallehuddin Mohd Iskan released 80 snakehead fish and catfish into the trench to launch the event.
"I hope that through such programmes, this activity will not be forgotten by the younger generation," he said.
The above articles are compiled from the vernacular newspapers (Bahasa Malaysia, Chinese and Tamil dailies). As such, stories are grouped according to the respective language/medium. Where a paragraph begins with a >, it denotes a separate news item.